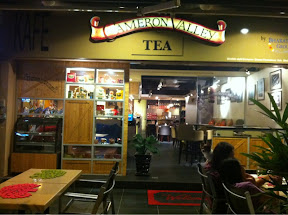 CAMERON VALLEY TEA CAFE
NO. 28, JALAN TELAWI 5
BANGSAR BARU, KL
TEL: 03-2202 2155
OPEN HOURS: 10AM - 10PM
Last Sunday, after took my furkids to grooming I had a sudden urge for tea-break. It was 6pm, and my friend suggested me to go to a coffee shop, but these days whenever I smell coffee, I vomit! So, after spent about 20 mins to round and round and round in Jalan Telawi, we spotted this place.
I asked the waitress whether they allow me to bring my fur kids and sit at the patio, and they said YES! yay, another pet friendly place? well, im not quite sure about that, have to double confirm with them, but I guess, if you sit outside with your fur kids, it shouldn't be a problem.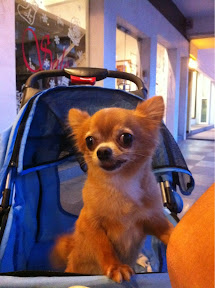 Zack, my boy, after grooming.
The noisy, Ace has to sit on Reco's lap coz he's too noisy barking at the passer-by.
Cameron Valley Tea Cafe in Bangsar is part of Cameron Bharat Plantations company. They bring the delicate Cameron tea and their special home-made scones right to Kuala Lumpur, in case you miss it but don't want drive to long to Cameron Highland. Beside tea and scones, they also have many variety food for you to try start from appetizer, sandwiches, salad, pastas and local noodles.
Menu
Their special Teh Tarik is really special. Somehow, the over-pricing is worth.
Teh Tarik
There's something funny when we ordered the tea. We ordered Earl Grey tea, but when it came, it smelled like strawberry. At first, we thought the strawberry smell comes from the strawberry jam of our Scones set, but when we drank the tea, we confirmed it's Strawberry Tea. We asked the waitress what tea they served us and he told me it's Earl Grey. Well, that could be the weirdest Earl Grey I ever drank, for a huge fans of Earl Grey like me. :)
So, we don't want to make things more complicated and just let it, because the Strawberry-Earl-Grey Tea they served us was good as well. It's refreshing and... different. And next time we come, we will try to order Strawberry Tea to make sure ourselves about this. :))
Strawberry / Earl Grey Tea?
This was the one we are waiting for.. Home-made Scones Set!! =) This is the best! The scones was perfect with the butter, strawberry jam and cream. I love this to the max!!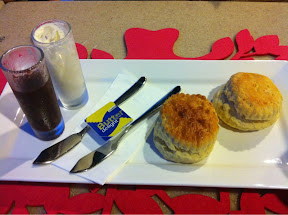 We tried their sandwiches, Chicken & Cheese, served with Salad. This one is a must try also. Rich in topping and delicious. For the salad, one of my friend who's a cherry tomato's lover told me that their cherry tomatoes ain't fresh, but the way their mix with the dressing made the salad tasted good.
Overall, I'm very satisfied with this place. Their food's delicate and their service's awesome. If you prefer to sit indoor, they have a very comfortable bean bag for you to relax and enjoy your tea-time with your friends. For me, the patio is more than enough to enjoy my time with my lovely fur-kids and friends. :)
Definitely will be back to this place =)
Love,
Mikha
Posted using BlogPress from my iPhone